For many years, the CCS Father Taaffe Home Foundation has hosted a food booth at the annual Mt. Angel Oktoberfest as part of its vital fundraising efforts. This year we had the opportunity to sell our famous brats, potato salad and some new treats from inside the beautiful Oktoberfest Festhalle. Funds from vendor sales at Oktoberfest allow CCS to continue serving young moms in crisis. FTH programs focus on various outcomes for young mothers, both immediate and multi-tiered, knowing that a pregnancy is both a fragile and yet potentially powerful and pivotal moment in a young woman's life. During a typical year, FTH, along with the CCS Fostering Hope Initiative, assist 50-60 pregnant teens and young women to deliver full-term, healthy babies and become skillful parents.
As well, CCS can benefit from total Oktoberfest earnings. After expenses are paid, funds raised at Mt. Angel Oktoberfest are distributed via a competitive grant process to local organizations that serve the community. In late autumn 2021, Mission Benedict (MB) requested funding to replace one of its distribution freezers and the Oktoberfest committee funded this request. As we weather the current heat waves, CCS and MB are deeply appreciative to have this new appliance to care for food as it passes through our hands. MB provides a range of items and services for families and individuals facing hunger, housing instability and other forms of adversity, including job loss and extreme weather. Mission Benedict is a trusted resource in the Mt. Angel community and is known for its open doors and the familiar faces of its long-time volunteers.
Oktoberfest has supported St. Joseph Family Shelter and Mission Benedict with this grant funding throughout the years, first through the Benedictine Sisters and now through CCS. We are most grateful for support from organizations such as Oktoberfest, which is vital to continuing the CCS mission of serving our most vulnerable neighbors.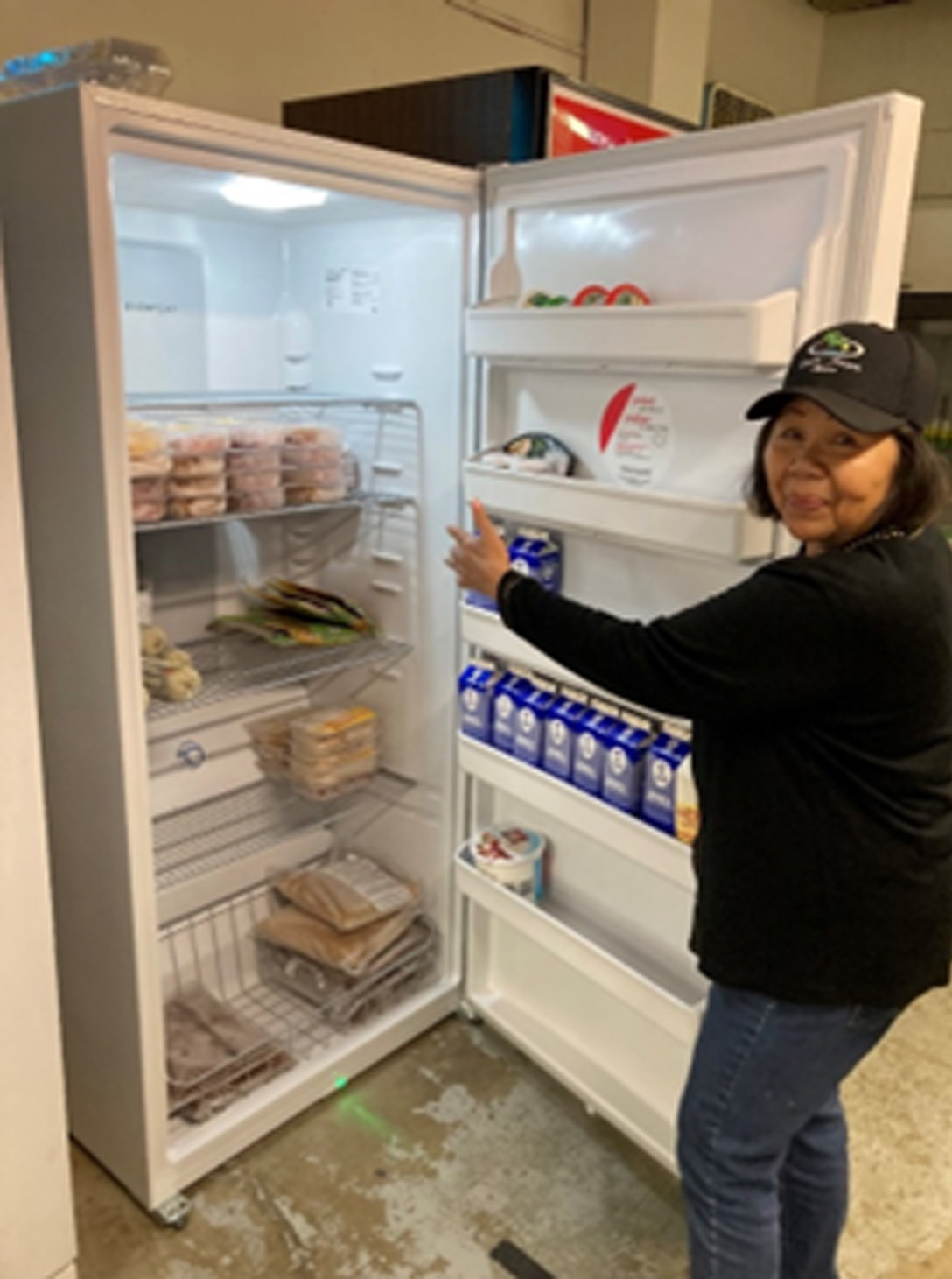 Mission Benedict Volunteer, Norma Brown shows off the new freezer donated to the mission.