September 21 was a memorable and inspiring day for staff and supporters of Catholic Community Services as more than 500 community members came together to share a meal and celebrate the courage and triumphs of those we serve at our 18th Annual Fundraising Luncheon, held at the Salem Convention Center.  The air was filled with anticipation and excitement as CEO Josh Graves ran the length of the lobby high fiving all the volunteers, including a group of students from Blanchet Catholic School.   
The gathering and food were blessed by Fr. Ralph Recker and graced by the musical talents of Julie Hoy and Nathan Olsen. CCS Board Chair and emcee Mark Baker recognized the 60th ordination anniversary of Bishop Kenneth Steiner, who was presented with a framed image signed by close friends and admirers.  Graves' keynote address and the theme of the entire event centered on the faith, hope, and kinship we all share as part of the CCS family.  
Participants and graduates of CCS programs shared their stories on video: Doug Wing, an artist living in one of the CCS group homes, whose art was featured on a calendar given to each guest; Natasha and Alfy, graduates of the St. Joseph Transitional Living Community (TLC) program who were reunited both with each other and their children; and Josh Walker, a graduate of the St. Joseph TLC program.  In his video, Josh shared how drugs had wreaked havoc on his life, including the death of his wife and the removal of his children. As the house lights came back on, Josh was on stage in-person.  He shared that, thanks to the St. Joseph TLC program, he was now reunited with all three of his children, living in his own place, holding a steady job, and clean from drugs for over a year. A thunderous applause filled the room as Josh thanked everyone present "for all your support [of CCS programs] and for believing in me when I couldn't believe in myself."  
Due to the generous sponsorships from local businesses, the cost of the entire Luncheon event was underwritten, so all donations go directly to CCS programs.  As Julie Hoy began her final number to close out the hour-long program, she shared an encounter she'd had that morning, where someone told her the world was filled with so much bad, and she replied, "Oh, no…There's so much more good than bad. Darkness would like nothing more than for us to believe different."  With that, she led a rousing rendition of her new song, "Never Say Never," written for the Annual Luncheon. The lyrics, "Never say never, 'cause we're in this together," is a reminder that we are truly connected by faith, hope, and kinship. 
Donations to this year's annual fund are still needed, and please save the date for the CCS 19th Annual Luncheon, to be held Tuesday, September 26, 2023, at the Salem Convention Center.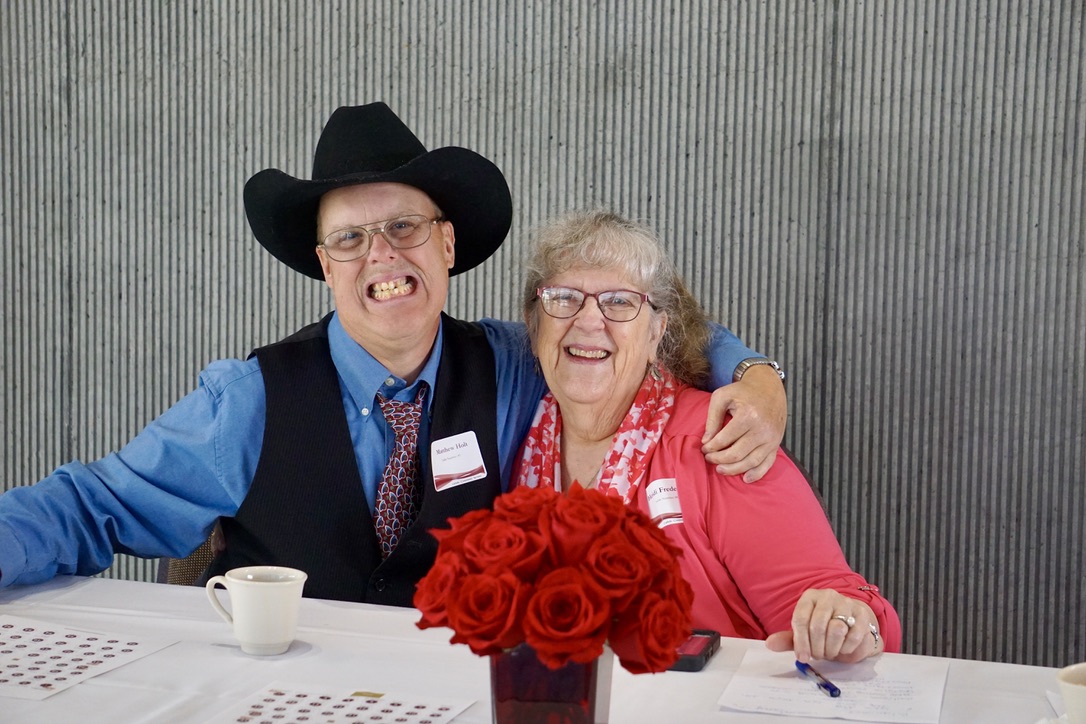 Matt Holt and Heidi Frederick