CCS received a $100,000 donation from Ashley Furniture during an official visit from Ashley Furniture HomeStore executives on January 26
In his acceptance address, CEO Josh Graves explained that CCS serves over 7,000 people a year through 11 programs in 10 counties "We serve people of all faiths, and we serve from conception until natural death," he said citing the agency's work with pregnant young moms in its Fr Taaffe program, and times when elderly adults with disabilities are cared for in their CCS-staffed homes with the help of hospice. 
"This gift is so incredible; for us to have the opportunity to have unrestricted funding that we can use flexibly to meet the needs of children, families, and the communities that we serve… I can't tell you how important that is," he said.
Ashley Furniture HomeStore's Regional Director, Jag Daswatta, and Vice President of the Southwestern Ashley Division, Jessie De La Pena, presented the gift on behalf of CEO of Ashley Furniture and founder Ron Wanek.
Daswatta said, "We are privileged and blessed to be in a position to offer this donation.  Giving is the easy part. The real work is here, what you all are doing.  It is amazing…we want to continue to give back to organizations that do the kind of work you do." 
Mark Baker, CCS Board Chair, said, "This gift will go a long way and help a lot of people."
"So many sad things are going on around us, and it's tempting just to look away. Looking away is easier. I'm proud to say that Catholic Community Services doesn't look away. We don't look away from neighborhoods and families in crisis; we are right there with them," said CCS Board Member Lynda Harrington at the presentation.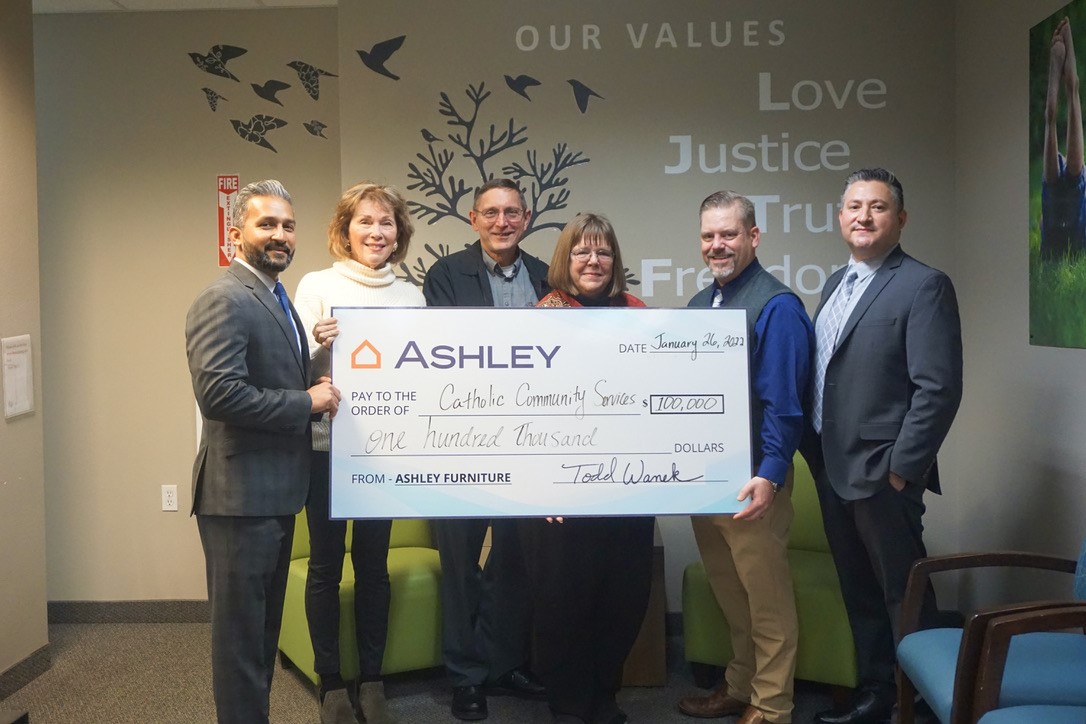 Jag Daswatta, Lynda Harrington, Mark Baker, Bonnie Henny, Josh Graves and Jessie De La Pena at the check presentation.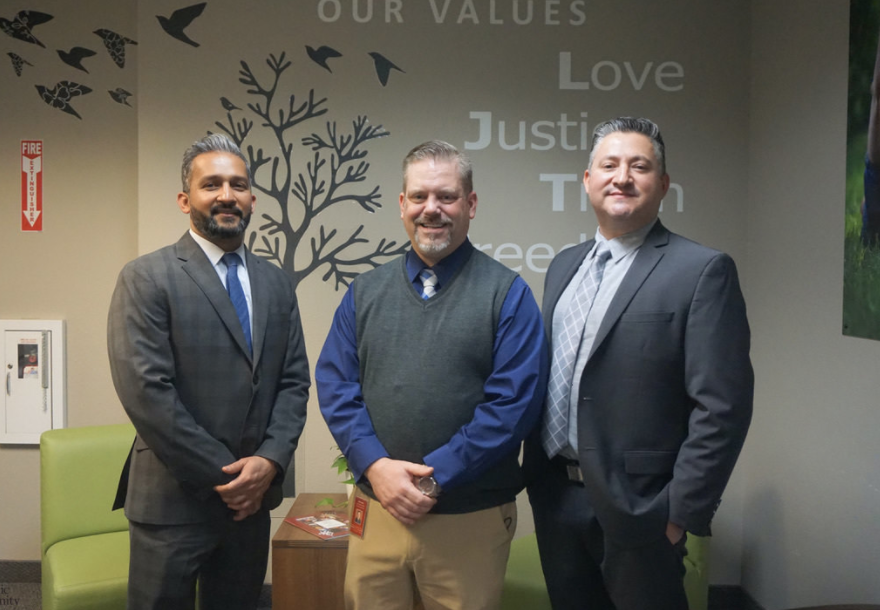 Jag Daswatta, regional manager for Ashley HomeStores in Oregon, left, CEO Josh Graves, second from right and Jessie De La Pena, Vice President, Southwestern Ashley Furniture on the right.