Food Pantry Specialist Lei Schaecher makes a difference in the lives of thousands of people served by Mission Benedict in Mt. Angel. "Lei is patient, detail-oriented, compassionate and community minded." says Senior Program Director Lori Simpson. "She works every day to make sure that people's needs are met, and she treats everyone with kindness and respect."
Lei had been an adult caregiver before former CCS Executive Director Jim Seymour asked her to take a temporary position at Mission Benedict. "He asked if I would help out for a little while after CCS began working with the Benedictine Sisters to sustain the shelter and mission. Needless to say, I have been here ever since. Who doesn't love seeing someone's face light up when you tell them that you found what they were looking for?"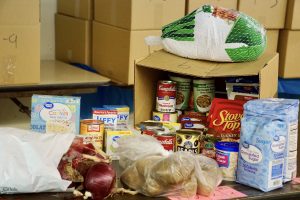 In December, Lei coordinated with St. Mary parish volunteers to gather essentials for Christmas meals. Together they assembled and delivered 115 Christmas boxes to those in need for Christmas. 
Mission Benedict helps an average of 50-60 families each week. Due to the pandemic, food boxes are now packed in advance, and people needing clothing or household items can make appointments to ensure social distancing is possible.
"We saw an increase in new people needing help with gas and utility bills after the fires," said Lei. "Mission was able to assist everyone that came for help in one way or another. If I did not have what they were looking for, I was able to find it or get them connected with other resources to meet their needs," she said.
The Mission serves all in need including those served by St. Joseph Family Shelter's Transitional Living Community and the Casa Adele farmworker family housing also on the St. Joseph campus.