On January 20, more than 100 friends, family members and colleagues gathered to celebrate Jim Seymour's 46 years of service and visionary leadership as Executive Director of Catholic Community Services. His retirement celebration included the dedication of a new building named in his honor – the Seymour Center for Children and Families. The Seymour Center, located on the main CCS campus on Portland Road in Salem, was built on the site of an old lumber warehouse to help children and families flourish by bringing together services and care providers in a single, convenient and accessible location.
The promise of the Seymour Center is to help children and their families thrive, increase their success at school and in the community, and strengthen family resilience, all while increasing collaboration and service integration among education, health and human service providers. The Center has already welcomed its new tenants, Gentle Dental and Willamette Education Services District. Children and families alike are now receiving dental care and preschool enrichment on-site at the Center. St. Vincent de Paul Food Bank, also a building tenant and partner, remained in operation through the construction and assists more than 750 families in need each month.
Additionally, a number of child and family serving organizations have plans to utilize space within the Center, including CCS's Community Counseling Center, the Mid-Willamette Valley Community Action Agency and Salem-Keizer Public Schools.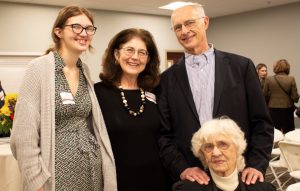 The Seymour Center dedication was the second and more intimate of the two community celebrations for Jim as he retired. At the dedication, Bishop Kenneth Steiner presented Jim with a papal blessing, friends and colleagues expressed their appreciation during an open mic tribute and guests voted on their favorite Seymour sayings. At the CCS Annual Luncheon in September, nearly 700 community members honored Jim with a standing ovation in recognition of his service. Josh Graves, a well-respected and long-time member of the CCS Executive Team, assumed the role of CCS Executive Director on January 1, 2020.
Pictured is former CCS Executive Director Jim Seymour with his daughter Rachel Seymour, wife Deborah Cathers-Seymour and his mother Mary Jane Brown.
Dedication Gallery
Annual Luncheon Gallery 2019