In 1988, the Benedictine Sisters in Mount Angel opened St. Joseph Shelter, a transitional housing program for homeless families. When the Sisters opened the Shelter, they also began to operate a food bank, and ran it out of someone's garage over 30 years ago, and that garage belonged to our non-paid volunteer nominee, Verna Scharbach. It wasn't enough for Verna to volunteer her home's garage to help serve those in need. Verna also donated her time, and collected food, clothing and household items for the pantry, now known as Mission Benedict.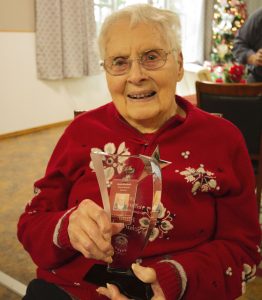 When Mission Benedict relocated to the large basement of the now St. Joseph Family Shelter campus, Verna came along too, bringing her dedication and commitment with her and leading by example. In June of 2019, Verna turned 101 – and she continues her over thirty years of service to the Mission today by volunteering on Wednesdays and Fridays. Although Verna can no longer buzz around to step in the way she used to or carry bags of clothing and boxes of food, Verna continues to be an integral part of the Mission's service. Often, Verna's face is the first one a visitor to the pantry sees. Verna mans the registration table at Mission Benedict, welcoming all, signing them in, and inspiring many. Verna loves her community and helping her neighbors. Verna's daughter, Susan, volunteers with her and says her mother leads by example. "She walks the talk," Susan said, "and so does the rest of her team."
Last month, Verna was honored with Spirit Mountain Community Fund's annual Helping Hands Award. Thank you, Verna, for your dedication and commitment to serving those in need!
(Pictured from left to right is Spirit Mountain Executive Director Michael Cherry, Spirit Mountain Program Coordinator Angela Sears, Award Recipient Verna Scharbach, CCS Executive Director Josh Graves and former Executive Director Jim Seymour)