Help Us Reach Our Goal!
Throughout this challenging year, we have held firm to our mission and core values, serving hundreds of our neighbors in need in new ways including food boxes, rental assistance and COVID prevention awareness. Our fundraising goal to sustain essential services throughout 2021 and beyond is $100,000. Please consider making a one-time or recurring gift today or joining our CCS Giving Society with a 5-year pledge: Carpenter Level ($10,000 per year for 5 years), Foundation Level ($5,000 per year for 5 years) or Groundbreaker Level ($1,000 per year for 5 years).
Make an Online Donation Below or Click  HERE  for Sponsorship Opportunities!
Join Our Giving Society, or Make a One-Time or Recurring Gift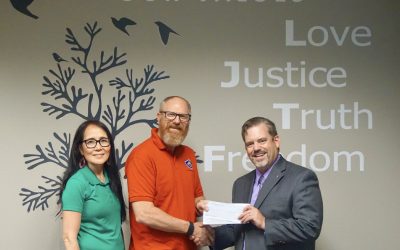 Knights of Columbus (KoC) Councils throughout Oregon and the Knights Ladies are key partners in sustaining the legacy of the late, beloved Fr. Charles Taaffe. Recently, Statewide KoC Deputy Ron Boyce and his wife Ana Boyce presented a check in support of Fr. Taaffe...